Event
Fri May 26, 2023,
6.30 - 8.30 p.m.
Advocates of Nature
A Performance of the Theatre of the Anthropocene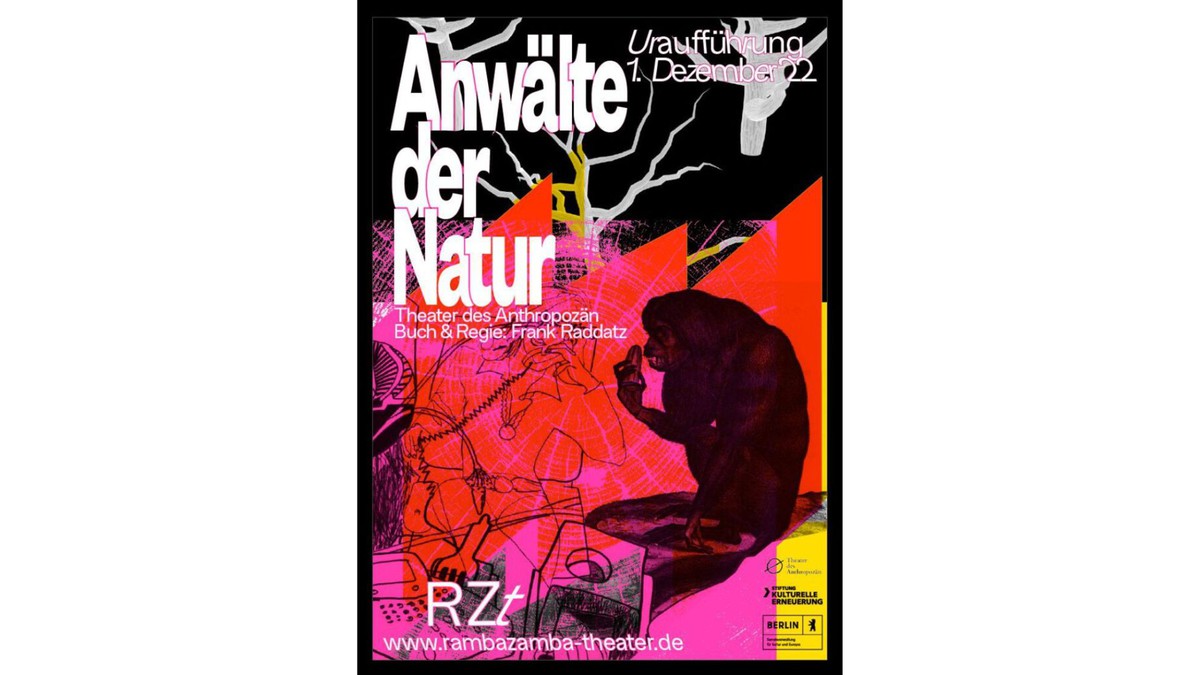 Do trees have rights? - When Christopher D. Stone asked this question a good 50 years ago, it sounded downright naïve, or at least innocent. But in view of the current ecological threats, the rights of nature could prove to be a decisive lever in putting a stop to disastrous developments such as the climate crisis and species extinction. For this reason, more and more states are declaring individual actors of nature to be legal subjects. In 2022, for example, the Rivière Magpie in Canada and the Mar Menor saltwater lagoon in Spain acquired the status of legal entities. Are we thus at the beginning of a huge cultural transformation movement?
In Advocates of Nature, conférencieuse Carrie Getman de Agudo accompanied by music legend Kevin Mooney embark on a tour d'horizon to look at the changing relationship between nature and law. Soon the planned visit turns into a wild journey that leads not only into the past and present but also into the future. With the traditional concept of an object-like nature, the historical continuum that leads from the dark zones of the mythical ages into the light-flooded world of omniscient rationality also collapses.
Authenticated actors, with protagonists from dance and drama, open gates into a wondrous tomorrow that awaits brave explorers, ready to face the core question: What nature do we want?
Written and directed by Frank-M. Raddatz
Stage - Mark Lammert; - Costumes - Isa Dorn; Music - Kevin Mooney; Choreography - Sara Lu; Video - Avo Krapelian; Assistance - Konstantin Züllich
On stage:
Claudia Burckhardt, Nils Emmerichs, Carrie Getman de Agudo, Gökhan Kaliskan, Shirly Klengel, Charlotte Maier, Kevin Mooney, Maria Vittoria Zinoni, Sara Lu and guests.