Exhibition
Malte Taffner

A Fragment of Eden
Sep. 12, 2021 - Jan. 22, 2023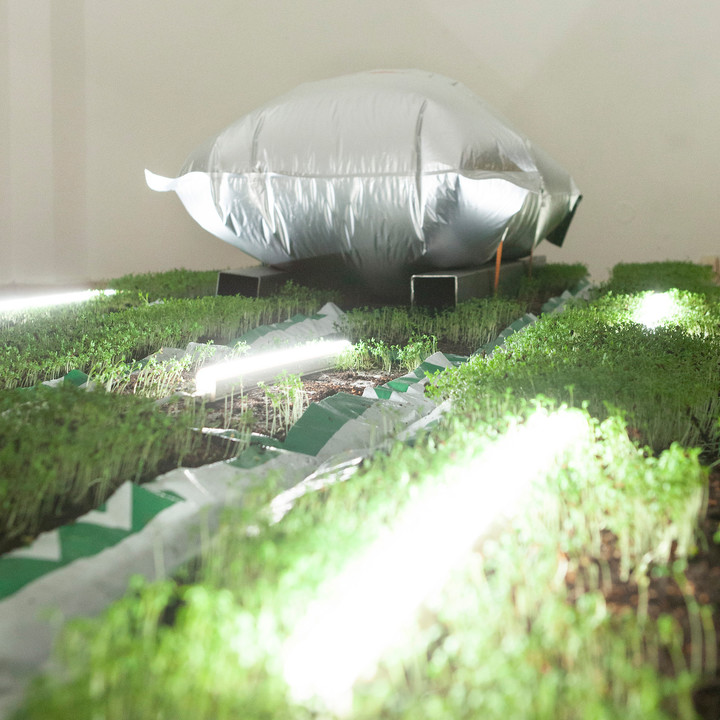 The artist Malte Taffner (* 1994 in Rinteln) is concerned with processes and infrastructures that enable the coexistence and exchange of plants, animals, humans and machines. To explore this coexistence, he develops the vision of a synthetic Eden: a large playground with living architectures made of plants and mycelium. Traffic routes made of electricity-generating floor panels. Huge glass domes that create artificial climates for a diverse variety of plants. Animals roaming around. Algae pools as large oxygen generators. Electronic gadgets writhing everywhere, fungi proliferating and insects frolicking, fertilizing each other and growing together.
In the installation "A Fragment of Eden", which will be created and grow on the square in front of the Kestnergesellschaft, a section of this utopian fiction will be brought into reality and made tangible. The circular area of earth under the large tree will be transformed into a flower meadow. This is combined with accessible levels of gratings, which are arranged in different sizes and heights on the meadow. The grid structure of the grates allows light and air to pass through the levels unimpeded, thus not hindering plant growth and allowing plants, animals and people to coexist. In this way, a stage of interaction and exchange is established. The different levels not only allow a different perspective on the small ecosystem of the flower meadow and the tree, but also on the entire surrounding square. The small garden acts as a contrast to the otherwise rather grey square, which with its openness and the adjacent street is more of a transit area for passers-by. The growing greenery thus becomes a fragment of Eden that invites people to linger.
Malte Taffner studied at the Hochschule für Bildende Künste Braunschweig (HBK) and Kyoto Seika Universtiy, Japan, from 2014 to 2020. In 2020 and 2021 he was a master student with Raimund Kummer at the HBK. Taffner's work has been shown in solo exhibitions in Braunschweig and Kyoto and in numerous group exhibitions, including "Soft Capsules" at Kunstverein Braunschweig (2021), "Jeep Ronaldo 7" in Hannover, and "ANTHROPOSCENE" at Kunstraum 53, Hildesheim (2020). Malte Taffner has received several scholarships, including from the Studienstiftung des deutschen Volkes.
"A Fragment of Eden" is the third case study within "Open Worlds", a research project of the Museum für Gegenwartskunst Siegen, the Kestner Gesellschaft Hannover, IMAGINE THE CITY Hamburg and the Museum Marta Herford. "Open Worlds" is funded by Fonds Digital in the Kultur Digital program of Kulturstiftung des Bundes over four years (2020-2024). Together with artists, curators and users, the four institutions for contemporary art are developing digital courses and artistic stagings in urban space that intertwine physical and virtual experiences.
---
Visit us
Goseriede 11, 30159 Hannover
---
Patrons / Partners
We thank our patrons for the support of this exhibition.
---
Newsletter
Subscribe to our newsletter! We will inform you regularly about our exhibitions, events and digital offers.