Elizabete Balčus
Opening Concert: Hotel Universe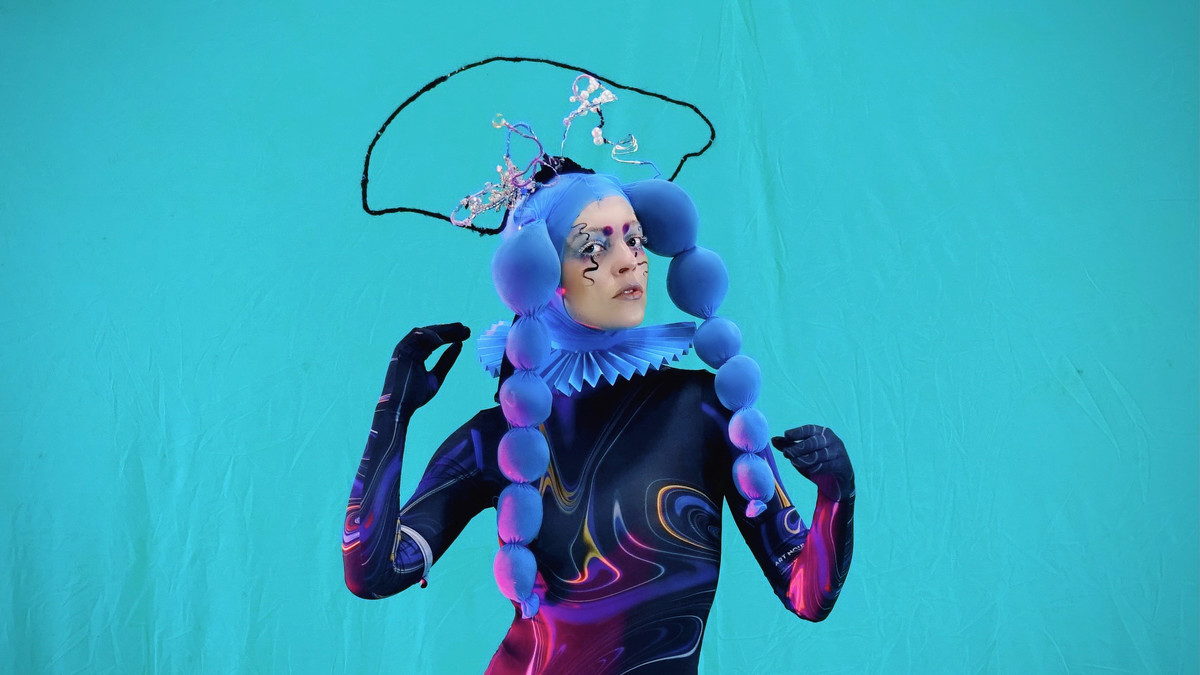 Elizabete Balčus is a Latvian musician and performance artist who creates neo-psychedelic dream pop from collaged "juxtapositions of genres".
Her soundscapes and audiovisual performances can best be described as a peculiar musical cosmos in which there are unusual connecting lines and states that lead the listener through the echoing loops of flute and ethereal voice, free jazz improvisations, classical set pieces, clicking electropop beats, and fruits and vegetables played as synthesizers into a kind of confusing hypnosis, an oscillating trance between waking and sleeping. The sound of the flute is layered and filtered to the point of abstraction, and from humble beginnings an impressive symphony is created.
Her concert entitled Hotel Universe, which she will perform at the opening of the autumn/winter exhibition season at the Kestner Gesellschaft, is based on her most recent album of the same title. It emerged in a special way from the artist's dreams, fragmentary visions, one could say, to which she formed connections and which she materialized.
Her singing ranges from wordless, soaring operatic qualities to hard-edged synth pop yearning. Thus, Hotel Universe is a textured soundscape of electro pop beats and siren-like vocal harmonies, sculptural flutes, and synthesizers played with fruits and vegetables. Her appearance morphs between an eccentric, diva-like ghost figure and postmodern digital animation. Elizabeth Balčus is one of the most extravagant representatives of the contemporary musical and artistic post-avant-garde scene.
Born in Riga, Elizabete Balčus grew up in a very creative environment, partly in the theater and partly in an architect's office, and before she started school she participated in various theater productions. At a very early age, Elizabete started her music school education, specializing in flute. She participated in and placed first in several competitions for young flute players. Later she continued her studies at the Jāzeps Vītols Latvian Academy of Music in two departments simultaneously, studying classical and jazz music. She also studied vocal performance, composition, and flute at the Santa Cecilia Conservatory of Music in Rome.
In 2011, she independently released the EP Wooden Horse, and it won the Annual Latvian Music Recording Award for best debut.
At the end of 2016, Balčus released her album Conarium under the UK label Liminal Noise. The album was nominated for best alternative or indie pop album of the year at the Annual Latvian Music Recording Awards in 2017, and was also nominated for the Austras Balva award in Latvia in 2017. Her album Hotel Universe was released on the Montreal-based label Mothland in September 2022.
Learn more about Elizabete Balčus in the event handout.