Kestner Cinémathèque
In the Kestner Cinémathèque, we permanently show a curated film program.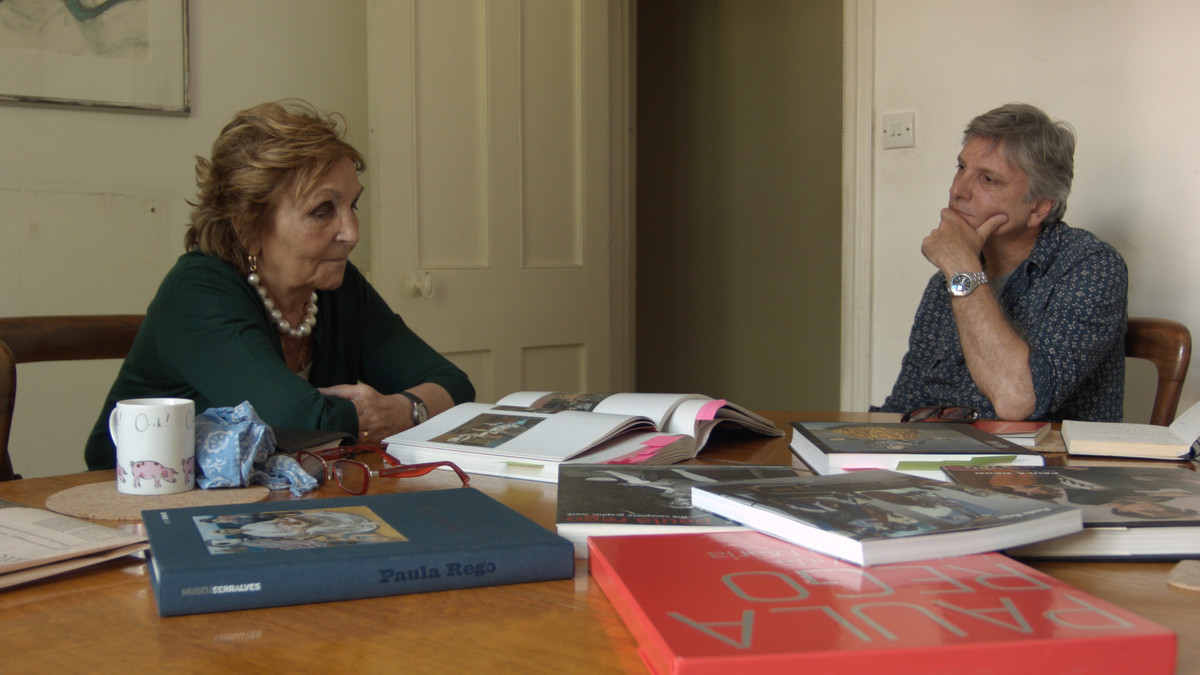 To accompany the exhibitions, Paula Rego. There and Back Again and Paula Rego. Theatrum Mundi, the Kestner Cinémathèque presents the groundbreaking documentary, Paula Rego. Secrets and Stories, directed by Rego' son, the filmmaker Nick Willing.
Paula Rego: Secrets and Stories (2017)
Oct. 30th, 2022 – Jan. 29th, 2023
Screening times: Tue. and Wed. 11.30 am, 1.30 pm, 3.30 pm / Thu. 11.30 am, 1.30 pm, 3.30 pm, 5.30 pm Fri. – Sun. 11.30 am, 1.30 pm, 3.30 pm
Nick Willing
Paula Rego: Secrets & Stories
United Kingdom, 2017, 90 min
The documentary is an insight into the life and work of celebrated painter Paula Rego directed by her son, the filmmaker Nick Willing. Notoriously private and guarded, Rego opens up for the first time surprising her son with secrets and stories of her unique life, battling fascism, a misogynistic art world and depression.
"This deeply intimate film ranges across the life and art of the Portuguese-born artist, whose work is bracketed with Lucien Freud, Frank Auerbach and David Hockney." (The Guardian)
Nick Willing has a varied filmography. Although he is best known for his popular fantasy television shows, he has also written and directed theatrically released movies, thrillers, social realist dramas, before recently focussing on feature documentaries. The one common thread is innovative storytelling.
In the last two years he has brought his experience as a screenwriter of fiction to help tell factual stories. In "Secrets & Stories," Nick spent a year interviewing and filming his mother, the painter Paula Rego, to better understand her and her work. He discovered that she had kept major secrets about her life from him, secrets that helped explain much of her life, and his. The experience was so affecting that it's hugely developed Nick's interest in the intimate and insightful power of documentary. The film won both the Grierson and Royal Television Society awards for best Arts program and encouraged him to stay in the medium to make "Unstoppable, Sean Scully & The Art of Everything," an equally probing and revelatory film about the outspoken abstract painter.
Interestingly, Nick's experience in drama has helped in the factual arena. In particular, drawing testimony from evasive and challenging subjects - a skill developed from directing dramatic actors. And his many years as a screenwriter, honing story, have translated directly to the story telling challenges of documentary editing. His goal is to produce powerful, revelatory and entertaining films which get under the skin of their subjects, to not only show what makes them tick, but also expose how their worlds work.
—
The Kestner Cinémathèque is located on the first floor. Parallel to the exhibitions, various short films selected by the artists are shown there, which are simultaneously presented in the Kestner Gesellschaft. A curtain designed by the artist Jongsuk Yoon guides the visitors into the world of cinema.
---
Newsletter
Subscribe to our newsletter! We will inform you regularly about our exhibitions, events and digital offers.