Event
Sat Sep. 11, 2021,
6–11 p.m.
Opening with Live Installation by Marcello Maloberti
Nicolas Party, Ericka Beckman, Tim Etchells, Jongsuk Yoon, Malte Taffner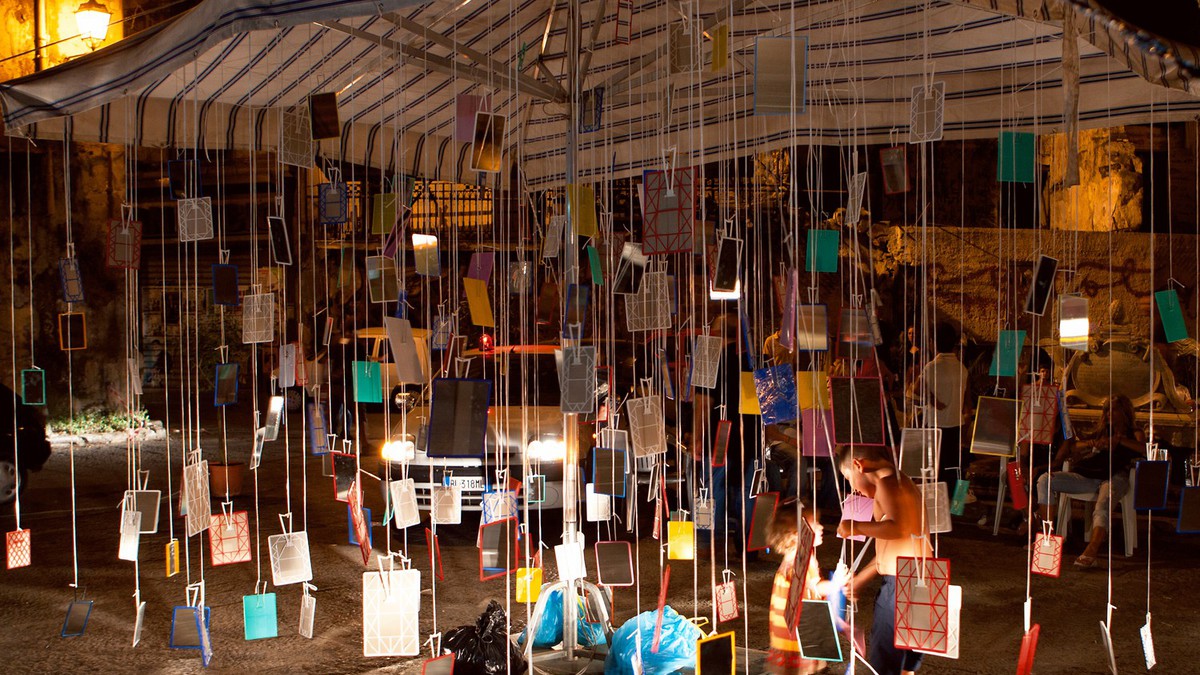 Register now!
Everyone is invited to the opening of the exhibitions of Nicolas Party, Ericka Beckman, Tim Etchells, Jongsuk Yoon and Malte Taffner. On the opening night, Italian artist Marcello Maloberti (* 1966 Codogno, Italy) will install the work "Circus" (2003/2019) on Goseriedeplatz. The small amusement park with music and food around a market stall tent invites you to gather and celebrate outside.
For the opening we welcome you at 7 pm outdoors - on the Goseriedeplatz. Adam Budak, director, Heidelinde Gerhold, first chairwoman, and Anke Blome, management NORD LB/ Kulturstiftung, will speak. In our exhibition building at Goseriede 11, the 3G rule applies: Please show us your proof of complete vaccination, recovery or a negative coronary test (PCR test not older than 48 hours or rapid test not older than 24 hours).
In order to limit the number of people in the exhibition rooms, we kindly ask you to register directly in advance for a time slot between 6 and 11 pm.
Maloberti has been presenting his traveling circus in several cities in Italy and across Europe since 2003, including Imola, Mestre, Palermo, Vitry-sur-Seine (on the outskirts of Paris), and at the Thessaloniki Biennale of Contemporary Art. The temporary installation will bring different people together, including city residents as well as passers-by and visitors. Thanks to the role of the artist, who divides the responsibility for the project among all the participants, there are no hierarchies and an open space for exchange and dialogue is created. For a short time, the circus represents a new urban and social center.
Marcello Maloberti lives in Milan. For his artistic practice he finds inspiration in trivial events and urban contexts. The neorealistic visionary approach of his research often goes beyond the everyday and incorporates a poetic dimension. In his work, Maloberti tests the relationship between art and life by exploring new approaches in photography, video art, performance, installations, sculpture, and drawing to create a contemporary total work of art. After his facade project Martellate (Das Publikum ist mein Körper, 2020), Circus is the second work that he will be showing in Hanover.