Exhibition
Helen Cammock
Feb. 27 - May 22, 2022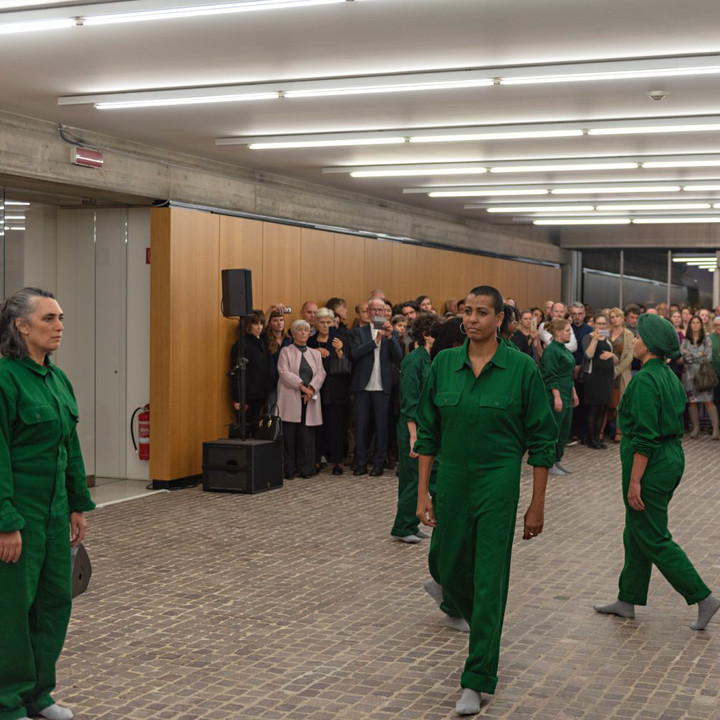 Artist Helen Cammock (* 1970 in Staffordshire, UK) tells marginalized stories and gives voice to unheard protagonists. Her work is preceded by an in-depth artistic research process that explores the complex historical narratives of these stories and reflects them in different ways in film, photography, text, printmaking, performance and song. Her works often interweave different perspectives with her own, including her own voice. The fragmentary and sometimes discursive narratives make it clear that, for Cammock, history is never finished, but always a basic prerequisite for-and therefore part of-our present.
In the film "The Long Note" (2018), one of her most recent works, for example, she addresses the role of women in the Northern Irish civil rights movement of the 1960s. Historical footage is juxtaposed with many personal accounts, creating a platform for a multi-perspective view of local events that are simultaneously situated in a global context. Polyphony also characterizes the film "Che Si Può Fare" (2019). In it, Helen Cammock deals with the lament, a genre that has been present in Italy since the 17th century. The artist is particularly interested in women's laments that address loss, longing, resilience, and resistance.
Her recent exhibitions include: Wysing Arts Centre, Cambridge, UK (2020); Collezione Maramotti, Reggio Emilia, Italy (2020); Whitechapel Gallery, London, UK (2019); Turner Contemporary, Margate, UK (2019); VOID, Derry, Northern Ireland; The Irish Museum of Modern Art, Dublin, Ireland (2019); and Cubitt, London (2017). Her work has been shown in many group exhibitions, including Kunsthaus Bregenz; Hamburger Kunsthalle, Hamburg; Somerset House, London; Hollybush Gardens, London; and Firstsite, Colchester, UK. Cammock received the Turner Prize in 2019, along with three other laureates, and the 7th Max Mara Art Prize for Women in 2018.
---
Visit us
Goseriede 11, 30159 Hannover
COVID-19: The health of our visitors is important to us. Please note the current information for individual visits to the exhibition, guided tours, events and children's workshops.
---
Patrons / Partners
We thank our patrons for the support of this exhibition.
---
Newsletter
Subscribe to our newsletter! We will inform you regularly about our exhibitions, events and digital offers.