Exhibition
Diango Hernández | "Bañistas" (Bathers)
June 25, 2022 - May 25, 2023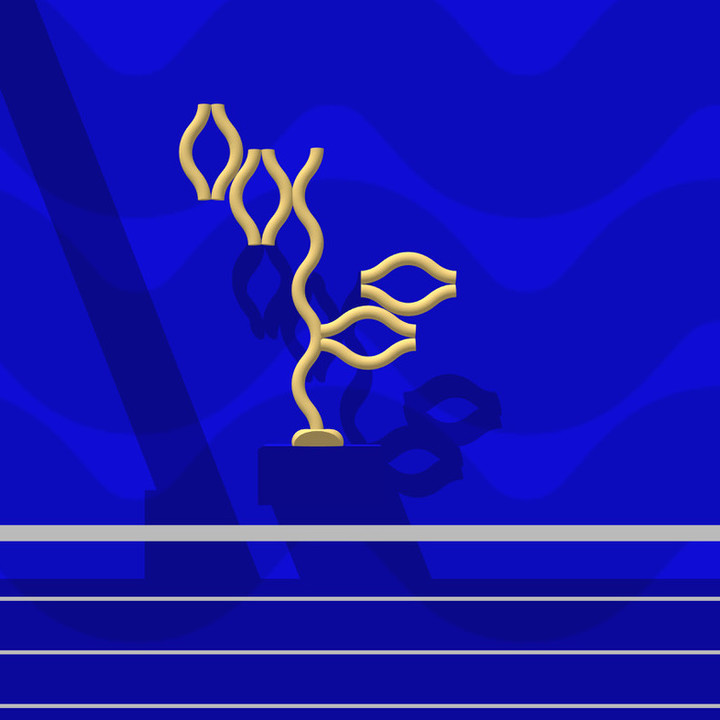 Diango Hernández will realize a large wall work titled "Bañistas" (Bathers) opposite the café "Tender Buttons" at the Kestner Gesellschaft. In this, his work will refer to the former Goseriedebad.
Diango Hernández's work is still influenced by his past in communist Cuba. Homeland as an ideological construction and place of longing forms the axes of memory, energy storage and background of his artistic production. For example, everyday found objects, old furniture and the characteristic motif of waves find their way into his work.
The presentation at Kestner titled "Bañistas" (Bathers) features three metal sculptures and a large wallpainting. The title of the presentation comes from the wallpainting itself in which the word Bañistas has been converted into "waves" and "written" three times over a large wall giving the impression all together of water. The three sculptures belong to a series of works titled "Instopia". These objects are reminiscences of social activities originated in the first place from Instagram. Before they existed with the actual shape and materials they were only digital objects. What we see in both works, the wallpainting and the three sculptures, is my desire as an artist to connect art with social media and to use this connection to expand the capabilities of dialogue and understanding that such unique connection could bring. I want this presentation to emulate the digital feeling, to look unreal, to be closer to that kind of perfection that social platform such Instagram emanate.
Diango Hernández (Sanctis Spiritus, Cuba 1970), began his artistic practice in Cuba in 1994 as a co- founder of Ordo Amoris Cabinet, a group of artists and designers who focused on invented solutions for home design objects to compensate for a permanent shortage of materials and goods. The artist moved to Europe in 2003 and currently lives and works in Düsseldorf. His work was the subject of solo exhibitions at the Kunsthalle, Basel (2006) and the Neuer Aachener Kunstverein (2007). His work was exhibited in the Arsenale as part of the 51st Venice Biennale (20059 and the Biennale of Sydney and the São Paulo Biennial, both in 2006. A survey exhibition of his work took place at Museo D'Arte Moderna e Contemporanea (MART) in Rovereto in 2011-12.
---
Visit us
Goseriede 11, 30159 Hannover
COVID-19: The health of our visitors is important to us. Please note the current information for individual visits to the exhibition, guided tours, events and children's workshops.
---
Newsletter
Subscribe to our newsletter! We will inform you regularly about our exhibitions, events and digital offers.