Project Space Shifting Present
Paula Rego.

Theatrum Mundi
Oct. 30, 2022 - Jan. 29, 2023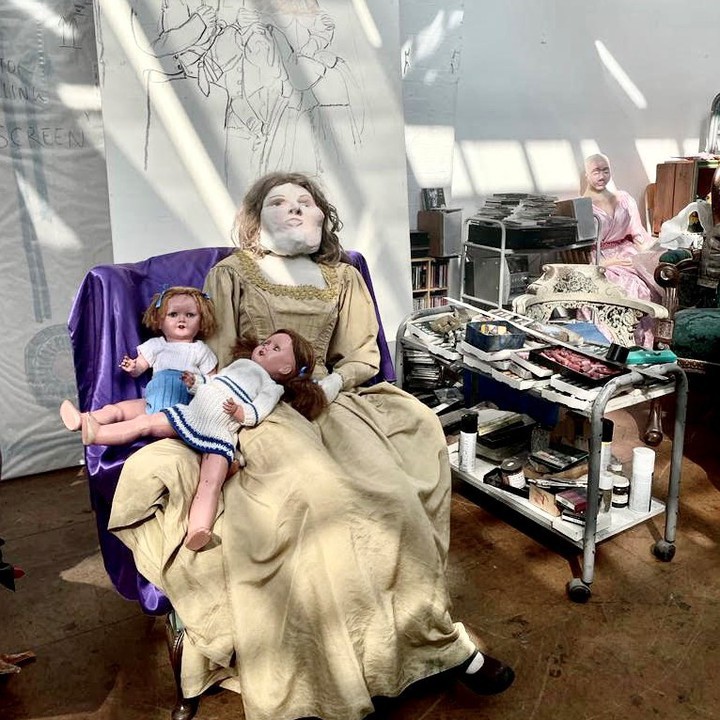 "The studio I have now I bought in 1993 from my stretcher makers. The moment I walked in here I said, 'This is it,' and I went straight to the bank. It's the place I feel best in. It is where I belong." This is how Paula Rego describes her North London working place. She continues: "My world takes place inside my studio. Most of it consists of things that I brought from Portugal, many years ago: clothes, certain dolls. There are suits that belonged to my grandmother. I have things from my mother." For the artist, there is the outside world, which is parallel to the world built inside the studio, but the realities of these two worlds are separated. In the studio Rego constructs her own universe of imagination, on the edge of reality and a dream, depicting in paintings what she is unable to say, and thus giving them a magical and revealing power. This is an essential habitat of her identity as a woman and as an artist. The studio, with its intimacy and isolation, is a guarantee of the absolute separation of the family life and the artistic work which Rego as a wife and a mother of three children always sought and desired. Rego's studio is an imagery chamber and a transgressive zone: by recalling past stories or episodes, setting them in her living space, Rego filters and unifies the composition, shielding it from the analytical layer that is characteristic of realism.
Paula Rego. Theatrum Mundi is the first ever attempt at fully reconstructing Paula Rego's studio. As such, it offers a unique insight into the artist's creative process of working and thinking, inviting us on a journey into a transgressive and grotesque world of theatrical imagination, and celebrating Rego's unparalleled versatility and the magic of her storytelling. Divided into two spaces, the quiet room (rest and thinking) and the busy room (work and action), the studio had been carefully and tenderly reconstructed by Lila Nunes, who has been Rego's most important and longstanding creative friend, and a sitter who frequently posed for several significant works, including Angel and the Ostrich series, on view in the exhibition. Nunes entered Rego's life in 1985 as an aupair and later on became a nurse to assist her in caring for her husband, Victor Willing, in his final years. She remained in an ongoing, partly non-verbal, unconscious, collaboration with the artist for decades until the latter's death in June 2022, acting as an artistic companion to Rego, her medium and inspiration, the keeper of secrets and a vital force behind Rego's virtuoso storytelling. Together they created the "dollies," sculptural, toy-like, soft figures made of textile, papier-mâché, and other simple materials in the form of rabbits, skeletons, dolls, or something more ambiguous and hybrid, which populate Rego's later works. "The props have a life on their own," explains Lila Nunes. These are the protagonists in Rego's work, as the artist carefully stages a selection of them in her studio, and then draws the scene in pastel. The studio is full of bloated wooden dolls and balding mermaid puppets, a pulpwood eagle and a giant stuffed octopus that inhabit Rego's bewitching and uncanny world of paint and canvas.
A selection of unfinished works—drawings, sketches, drafts, as well as print plates, fragments of the process—illustrate a struggle with the subject matter and the ever- changing story. Various pieces of pastel sticks, used and unused, are spread all over. As such, they offer evidence of an ever-present act of creation, a powerful sense of the presence of the artist herself. This is a consummate story factory, resembling a theater backstage and a rehearsal room, a microcosm fueled by almost every kind of narrative fodder, from Portuguese folklore to political satire and childhood memory. 
We would like to express our gratitude to Paula Rego's son, Nick Willing, and Lila Nunes for their generous and heroic work which made the reconstruction of Rego's studio here at the Kestner Gesellschaft possible.
Curators: Adam Budak, Alistair Hicks
Curatorial assistance: Robert Knoke
Learn more about Paula Rego in the exhibition handout.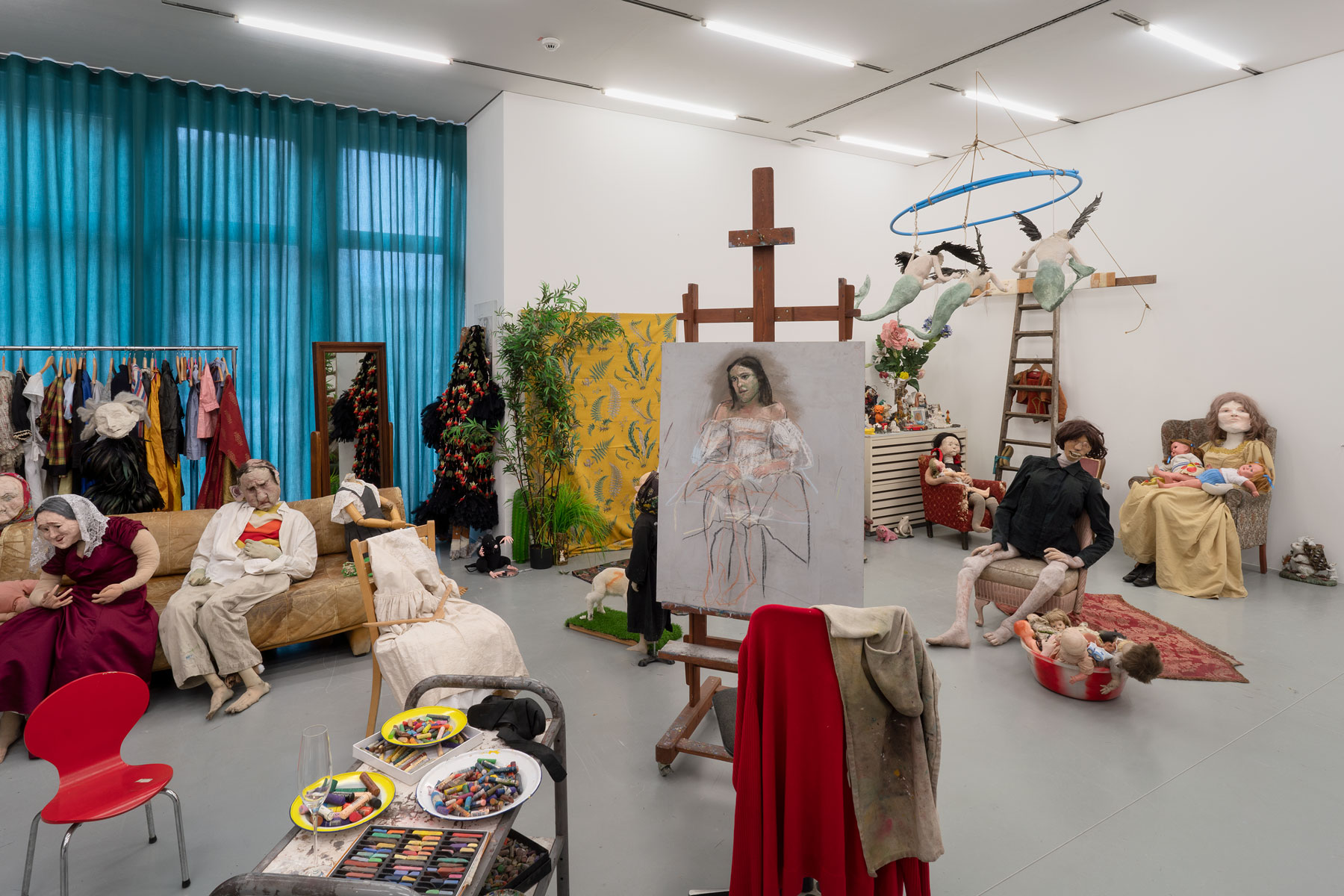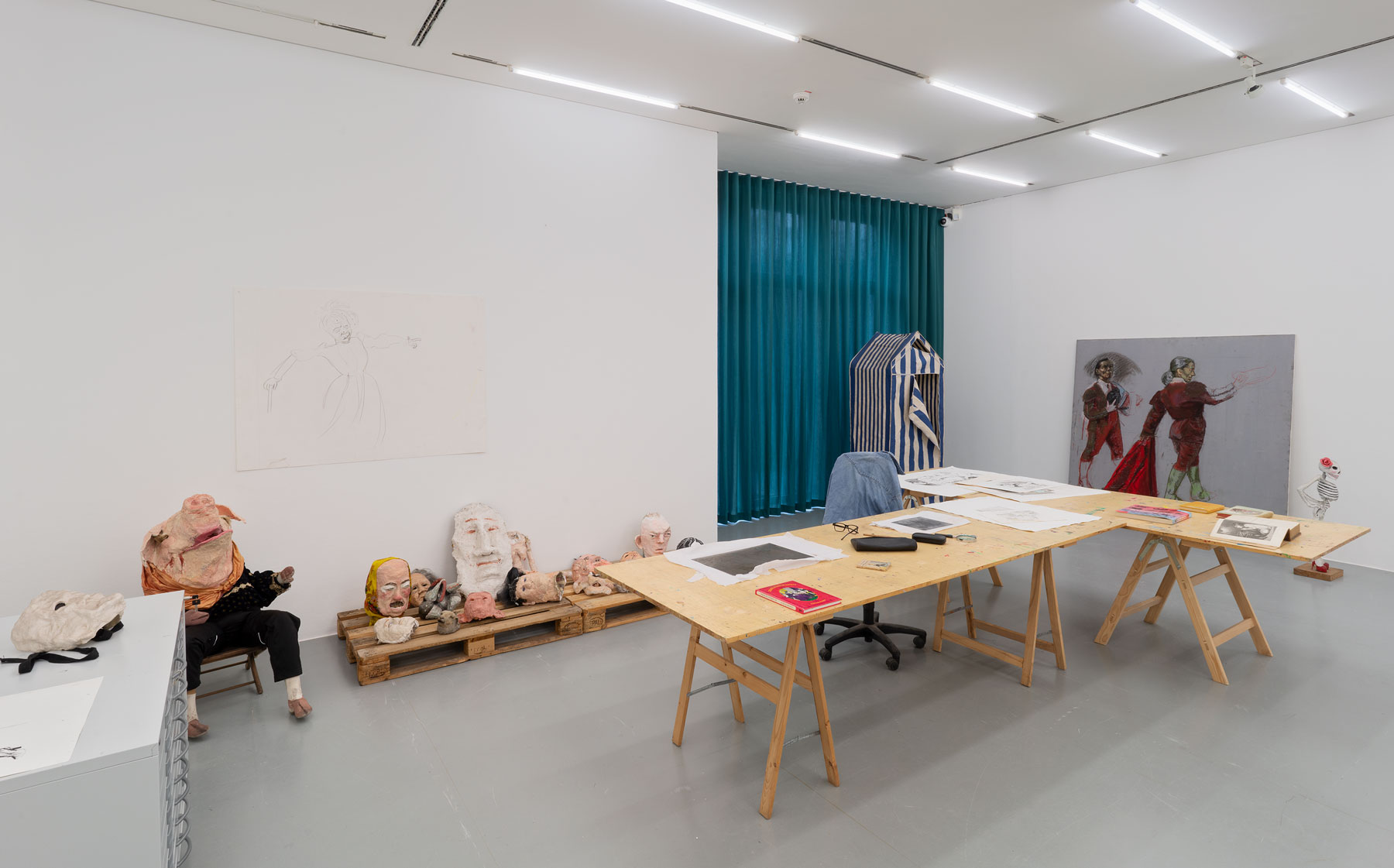 ---
Visit us
Goseriede 11, 30159 Hannover
---
Newsletter
Subscribe to our newsletter! We will inform you regularly about our exhibitions, events and digital offers.