Exhibition
Marinella Senatore

Remember The First Time You Saw Your Name
Oct. 30, 2022 - Jan. 29, 2023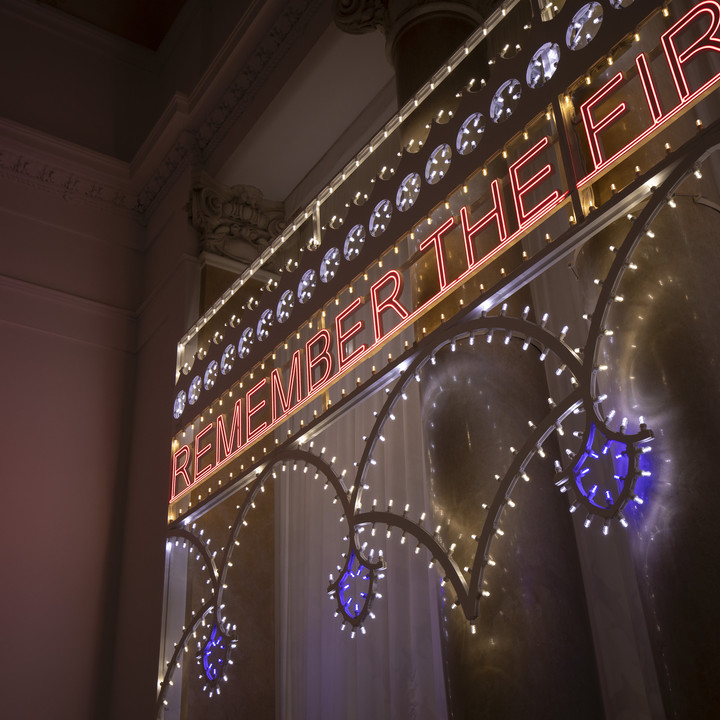 For Marinella Senatore, art is a horizontal platform on which different but equally valuable elements generate an energetic movement and therefore a shared narrative. Based upon the aesthetics of resistance and the transformative power of social engagement, Senatore's relational and inclusive practice encompasses film, collage, photography, installation and performance. Defined by their participatory nature, her works examine the potential of art and collaboration to generate broad social change.
A constant dialogue between history, popular culture and social structures is at the core of the artist's community-based projects. Considering herself as an 'activator of processes', Senatore redefines the role of the public not as an audience of spectators, but rather as a group of active subjects complete with their own history, interests and skill-sets. To realise her spectacular collective parades and audio-visual works, the artist involves the general public–and at times, entire communities–to become protagonists in the creative process.
Taking her inspiration from Southern Italy's luminarie, the elaborate light structures that traditionally adorn cities and recreate cathedrals, piazzas, and other architectural elements for outdoor public celebrations and religious festivities, Marinella Senatore inserts her own site-specific light sculptures on the facades and forecourts of significant buildings and locations. Her sources for quotes and texts range from feminist contexts and popular traditions to arts and literature, such as, for instance Dance First, Think Later, 2022, which is a quote by Samuel Beckett, or Die Sonne scheint, so lang die Sehnsucht weint, 2020, coming from Franz Josef Noflaner, South Tyrolean artist and poet.
One of such light sculptures is presented on the facade of the Kestner Gesellschaft: Remember the First Time You Saw Your Name, 2020. Here, the artist focuses herself in a very explicit way on the issue of one's identity and a sense of individual and collective belonging, once more foregrounding an urgent need for empowerment, emancipation and affection. Senatore's work contributes to the Kestner Gesellschaft's ongoing process of self-reflection in regards to redefining its role and enhancing its position as a host and a mediator of the social and cultural scene of the city.
Senatore's most recent project, titled Afterglow (2022) had been staged through several locations in London (UK) and included an assemblage of projects executed in various media, from music and dance performance through light sculpture and installation down to parade and collective word. As such, it celebrated the 10th anniversary of The School of Narrative Dance (SOND), Senatore's renowned participatory project that counts a network of about 7 million participants across 23 countries. SOND is a free of charge, nomadic school, focused on exploring new ideas of community, empowerment, and emancipation through different disciplines, such as music, dance, and spoken words.
Marinella Senatore (born 1977, Cava de' Tirreni, Italy) studied at the Academy of Fine Arts Naples (1994 - 1997), the Conservatory of Music (1997) and the National Film School in Rome (1999 - 2001). Currently she lives between London and Rome.
Marinella Senatore's works and performances have been commissioned and exhibited by Italian and international institutions alike, including High Line, New York; Queens Museum, New York; Centre Pompidou Paris; Kunsthaus Zürich; Pearl Art Museum; MAXXI; Palais de Tokyo; Schirn Kunsthalle; Museum of Contemporary Art of Chicago; Berlinische Galerie; Museo del Novecento, Milan; Kunsthalle Sankt Gallen; Faena Art Forum, Miami; Bozar; Fondazione Sandretto Re Rebaudengo; Museums der Moderne Salzburg; Serpentine Gallery; CCA Tel Aviv; Museo Madre; Musée d'art contemporain de Montréal; ICA, Richmond; Petach Tikva Museum of Art; BAK Utrecht; Centro de Arte Dos de Mayo; Palazzo Grassi; Museo Boijmans Van Beuningen; Moderna Museet. The artist has participated in the following contemporary art biennials: São Paulo Biennial; Venice Biennale; Lyon Biennial; Thessaloniki Biennial; Liverpool Biennial; Athens Biennial; Havana Biennial; Gothenburg Biennial; Cuenca Biennial; Pune Biennial; Val Gardena Biennial; Bangkok Biennial; and Manifesta 12, Palermo. Upcoming projects include solo exhibitions at Palais de Tokyo, Paris; Museum Boijmans Van Beuningen, Rotterdam; Horst, Villvoorde; Museum Villa Stuck, Munich; Museum der Moderne, Salzburg; and CCA, Tel Aviv.
---
Visit us
Goseriede 11, 30159 Hannover
---
Newsletter
Subscribe to our newsletter! We will inform you regularly about our exhibitions, events and digital offers.