Exhibition
Diedrick Brackens

everything I have ever touched
Mar. 4 - June 4, 2023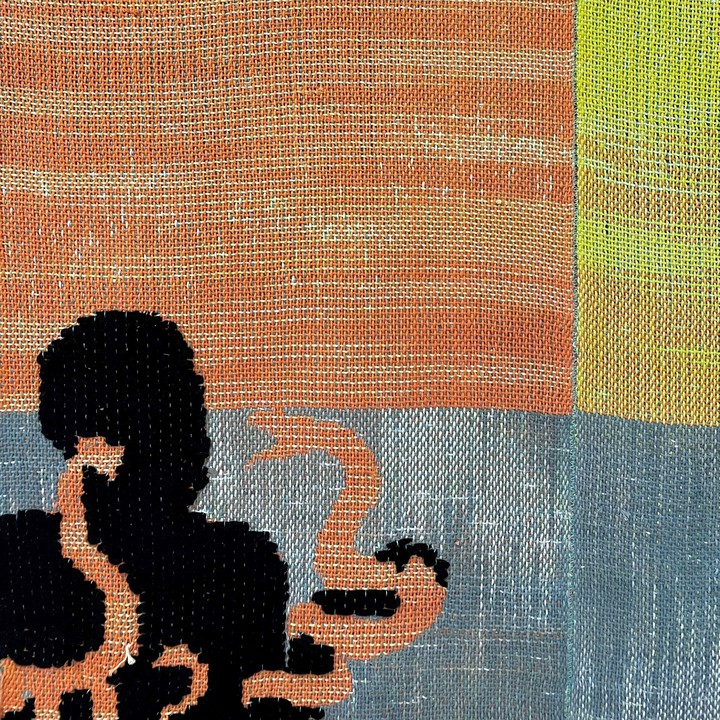 (…) Thanks for alleviating the pressure I was feeling Adam. This is the title I'd like to use for the exhibition. After further thought I believe this fits the direction the work is moving and addresses some of my concerns. I am taken with the sensual possibilities and the oblique reference to the process (touching all the threads).
Also, I am pleased with the impossible notion that the objects could depict/describe everything I have ever touched. So hopefully you find this as nonsensical, wild, liberating, sensual, intimately critical as I do.
Brackens' everything I have ever touched at the Kestner Gesellschaft is the artist's first solo show in a European art institution. Composed of an existing body of work as well as of an extensive number of newly produced works, this exhibition is Brackens' self-reflexive endeavor where radical tenderness, accompanied by a critical intimacy, contributes to the ethics of storytelling and a lyrical representation of masculinity.
Exploring the intersections of identity and sociopolitical issues, Diedrick Brackens (born 1989 in Mexia, Texas) creates intricate, handwoven tapestries and textile sculptures that reexamine allegory and narrative through material, autobiography, the broader themes of African American and queer identity, as well as American history and memory.
The material indicates a sensation of tactility as well as it connotes the political dimension: "Cotton is the primary material because it is a very easy material to manipulate, it takes color beautifully and its historical significance in the U.S. relative to enslavement, violence and subjugation has had lasting effects on black bodies," the artist explains. "I think of the process of handweaving cotton as a small way to pay tribute to those who came before me and worked with the material under very different circumstances." Brackens' is a highly intertextual and performative practice which incorporates various traditions and employs techniques from West African weaving, quilting from the American South and European tapestry-making to create both abstract and figurative works. Often depicting moments of male tenderness, Brackens culls from African and African American literature, poetry and folklore as source.
Brackens recalls the art historian Kobena Mercer's understanding of magical realism which when applied by the Black people, it is an attempt to describe the world we live in. "We experience the magical in the modern", the artist comments. Hence his work - often times phantasmatical, highly poetic and melancholic tableaux of woven matter, featuring black silhouetted figures, inhabiting geometric color fields of an abstract background and engaged in moments of intense intimacy with themselves or often with an animal world, remain powerfully relevant and vivid.
Brackens' recent solo shows include the Mint Museum, Charlotte, NC, Craft Contemporary, Los Angeles, CA, Blanton Museum of Art, Austin, TX, Oakville Galleries, Ontario, Canada, New Museum, New York, NY. He participated in numerous group exhibition, amongst them, "The Slipstream: Reflection, Resilience, and Resistance in the Art of Our Time", Brooklyn Museum, NY, 2021-2 "Made in the L.A., 2018", Hammer Museum, L.A., "Ear to the Ground: Earth and Element in Contemporary Art", New Orleans Museum of Art, 2019.
He is the recipient of the Textile Society of America's Brandford/Elliot Award For Excellence in Fiber Art, 2018, the Studio Museum in Harlem's Joyce Alexander Wein Artist Prize, 2018 and the Marciano Artadia Award, 2019, Louis Tiffany Comfort Grant, 2019, US Artist Fellowship, 2021.
Brackens lives and works in Los Angeles, CA. He received a BFA from University of North Texas, Denton, TX and an MFA in textiles from California College of the Arts, San Francisco, CA.
---
Visit us
Goseriede 11, 30159 Hannover
---
Newsletter
Subscribe to our newsletter! We will inform you regularly about our exhibitions, events and digital offers.