Exhibition
Susan Hiller | Lost and Found
Apr. 18 - Aug. 8, 2021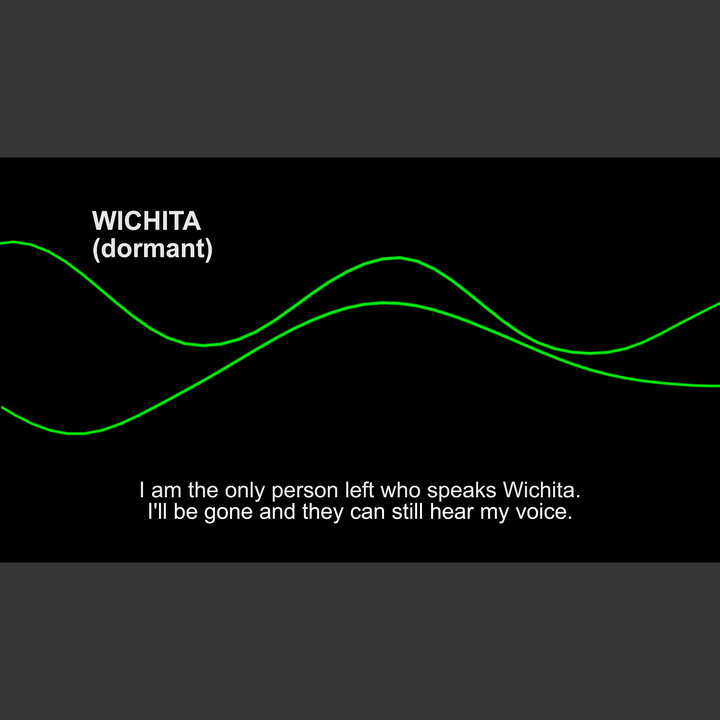 Languages construct worlds. If they die out, so do the anecdotes, songs, and memories of their speakers. Parallel to the exhibition by Camille Henrot, and in a dialogue between generations, the work "Lost and Found" (2016) by the American artist Susan Hiller (1940–2019) will be shown.
Science and Emotion
In the sound and video work, the artist deals with language as an element of knowledge production: various voices tell stories in 23 different languages that have gone extinct or are threatened with extinction due to ethnic marginalization, among other factors. The content of what is spoken is conveyed visually through subtitles and the representation of pitches. The scientific representation, which is reminiscent of anthropological research, contrasts starkly with the emotions conveyed acoustically by the voices of the speakers. Susan Hiller thus focuses on the subjective dimension of knowledge production, a topic that she has dealt with in many of her works.
Her career has been recognised by survey exhibitions at Bloomberg SPACE, London, UK (2020); The Polygon, Vancouver, Canada (2018); Officine Grande Riparazioni, Turin, Italy (2018); Pérez Art Museum Miami, Miami, FL, USA (2017); Samstag Foundation, Copenhagen, Denmark (2014); Musée d'Art Moderne et Contemporain, Toulouse, France (2014); Tate Britain, London, UK (2011); Moderna Museet, Stockholm, Sweden (2007); Castello di Rivoli, Turin, Italy (2006); Museu Serralves, Porto, Portugal (2004); ICA, Philadelphia, PA, USA (1998); and ICA, London, UK (1986).
---
Visit us
Goseriede 11, 30159 Hannover
COVID-19: Please remember to bring a mouth and nose protection. You can also purchase a disposable mask at the reception. Please keep the distance rule of 1.5 meters to other persons.
---
Patrons / Partners
We thank our patrons for the support of this exhibition.
---
Newsletter
Subscribe to our newsletter! We will inform you regularly about our exhibitions, events and digital offers.