Facade
John Wood and Paul Harrison

something on the front of a building
July 8 - Oct. 1, 2023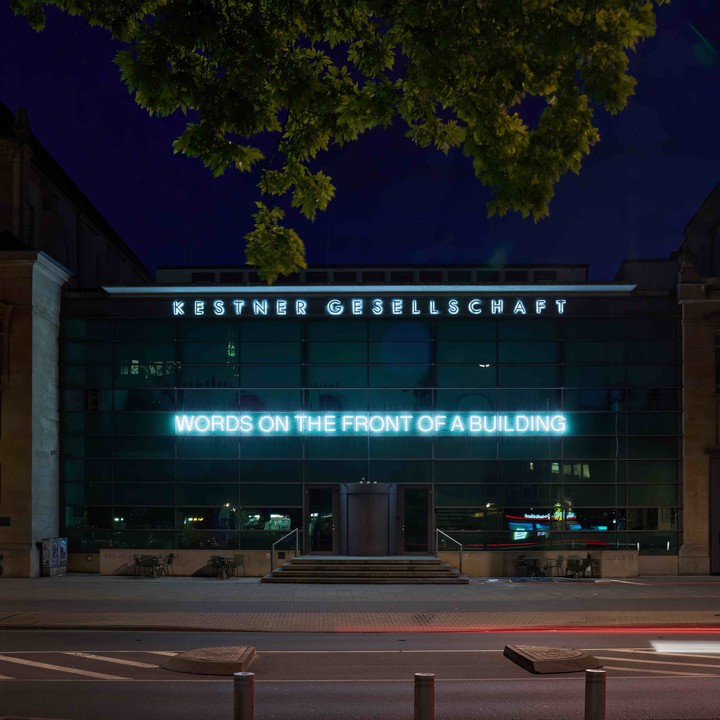 "We love the unspectacular, the mundane, the flatness of things. We love the thing that undoes itself even before that thing is done."
John Wood and Paul Harrison, 2023
The British artist duo John Wood and Paul Harrison have placed one or two things horizontally and vertically in the outdoor space in front of the Kestner Gesellschaft and developed a humorous tabula rasa of the everyday.
For the exhibition John Wood and Paul Harrison. something on the front of a building , the new neon installation words on the front of a building (2023) was installed on the facade. In front of the building, in the park of the old St. Nikolai Cemetery, the duo placed the green park signs 10 Signs for a Park (2022). The public sculptures are in direct dialogue with each other and show Wood and Harrison's ongoing engagement with the overwhelming universe of things, time and boredom, the sober language of everyday life, as well as the tragedy of metaphysical existence, and at the same time question the identity of the site.
How many words does it take on the facade of a building to learn something about its meaning and function in everyday life? What if the text only uselessly referred to its own linguistic content and thus to itself? Words on the front of a building deals with these questions and leaves much unclear regarding architecture as a object in public space. Wood and Harrison open up a humorous space for thought that makes the search for a relation between architecture and words and things in everyday life necessary and reveals its linguistic absurdity.
The public sculptures 10 Signs for a Park seem at first glance like everyday signs in a park, showing the way or providing information about the park. They point nowhere, demand nothing from their viewers. As signs, they refer to themselves, say things that are widely known, and simply invite us to ponder for a moment words like "DAYLIGHT" and "TREE →". In the green backdrop, the park signs blend into the surroundings like camouflage and at the same time draw attention to the existential and humorous aspects of the connections between text and things in everyday life with phrases like "THESE WORDS MAKE A SOUND IN YOUR HEAD" and "PLEASE DO NOT READ".
With wit and ironic messages, the neon installation and the ten sculptures sneak into the public subconscious and play with the behavior of the public, which is constantly regulated and controlled by instructional texts. The park signs allow for relief in the mode of not doing anything and not having to do anything when faced with hundreds of signs in urban daily life.
John Wood (b. 1969 Kowloon, Hong Kong) and Paul Harrison (b. 1966 Wolverhampton, UK) live and work in Bristol, UK. Both artists studied at Bath College of Higher Education and have been working together since 1993.
Curator: Alexander Wilmschen
Learn more about John Wood and Paul Harrison in the exhibition handout .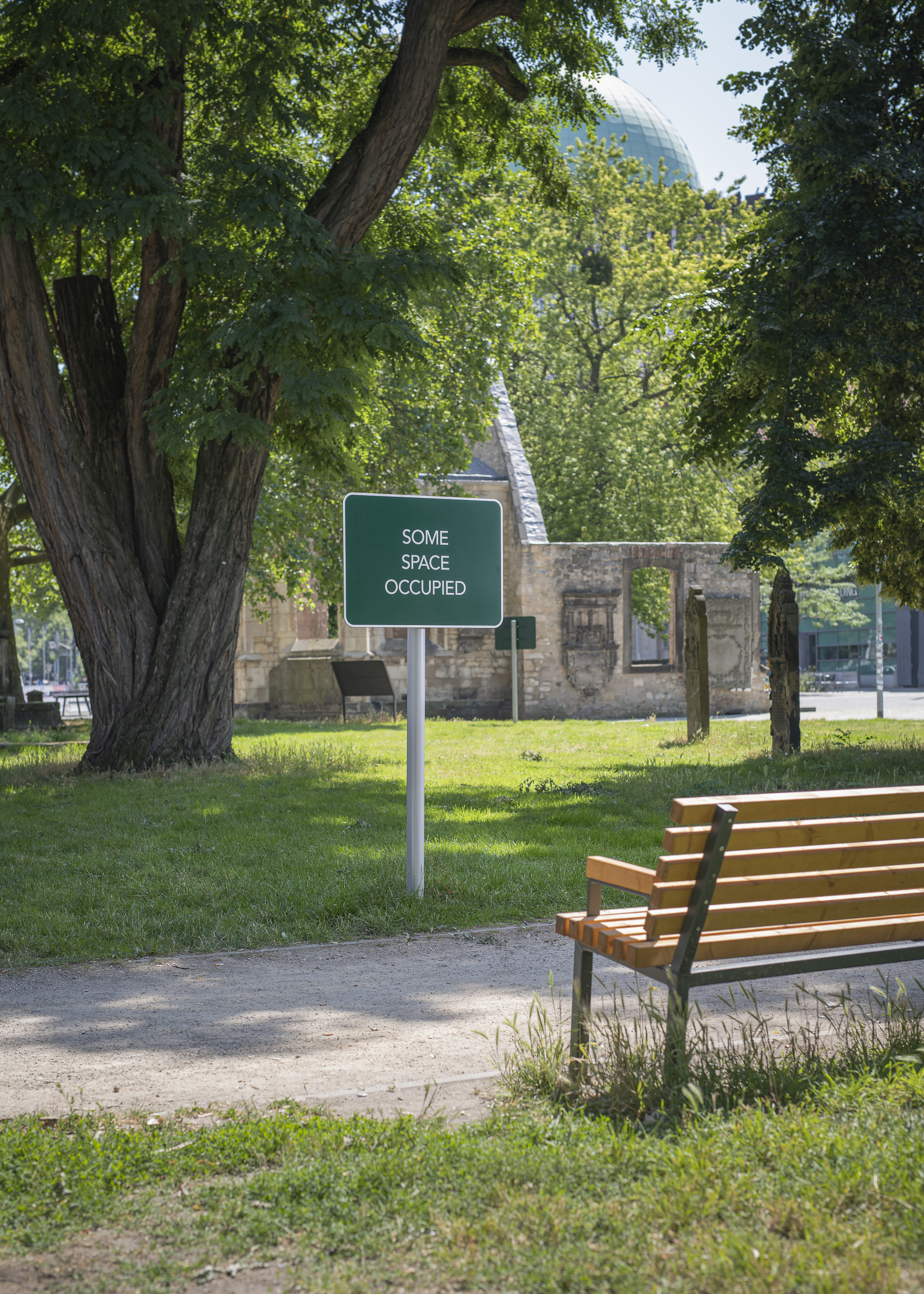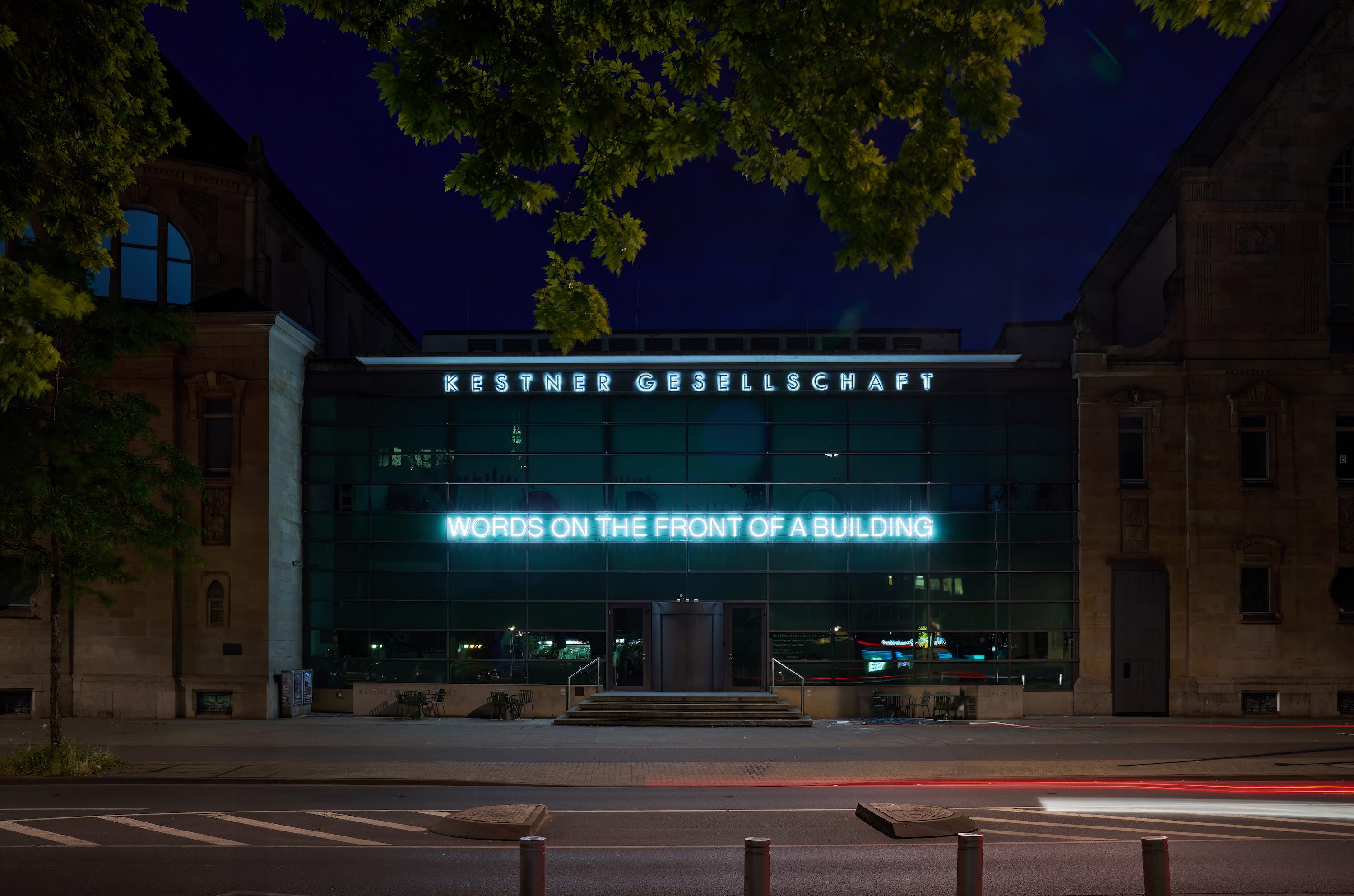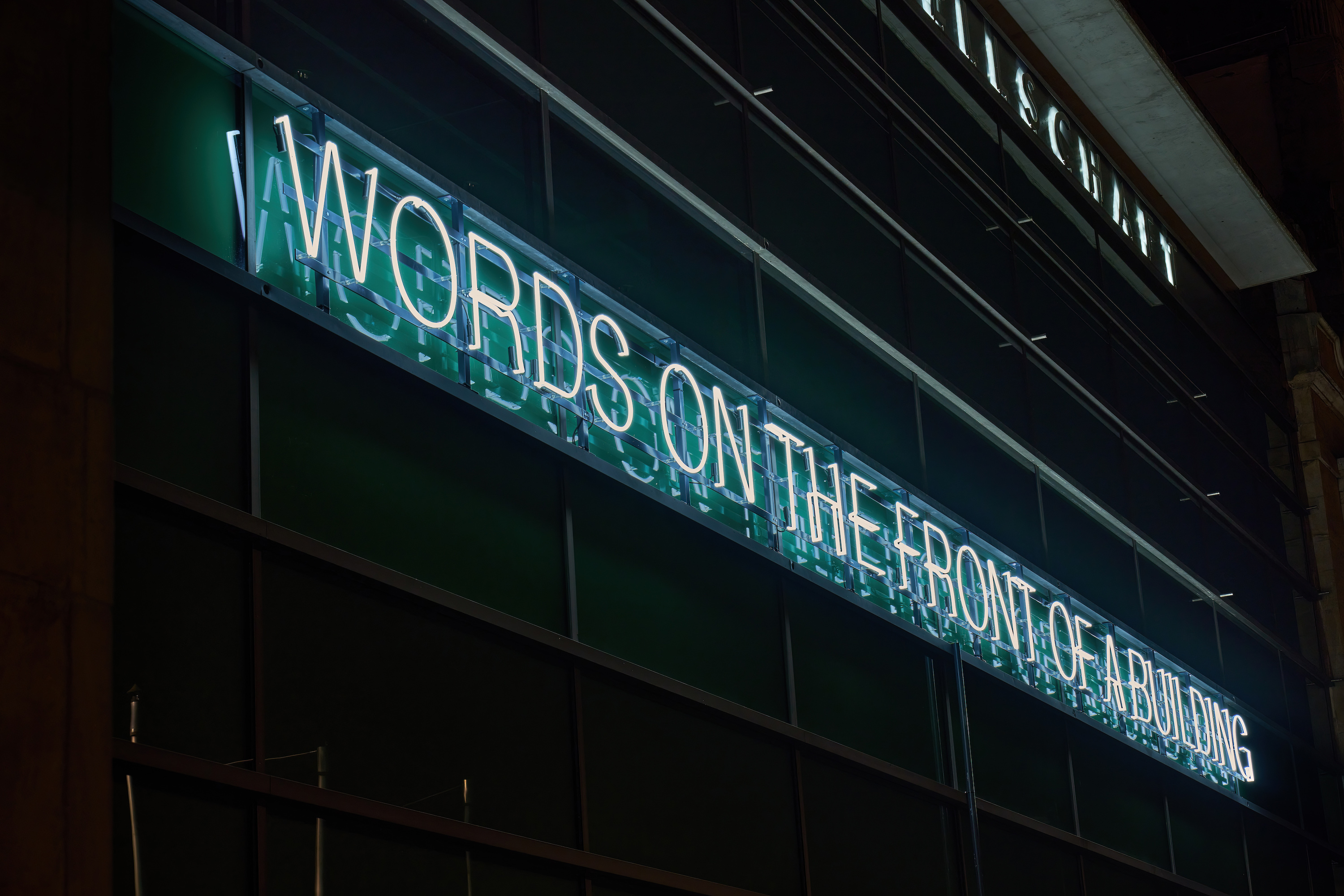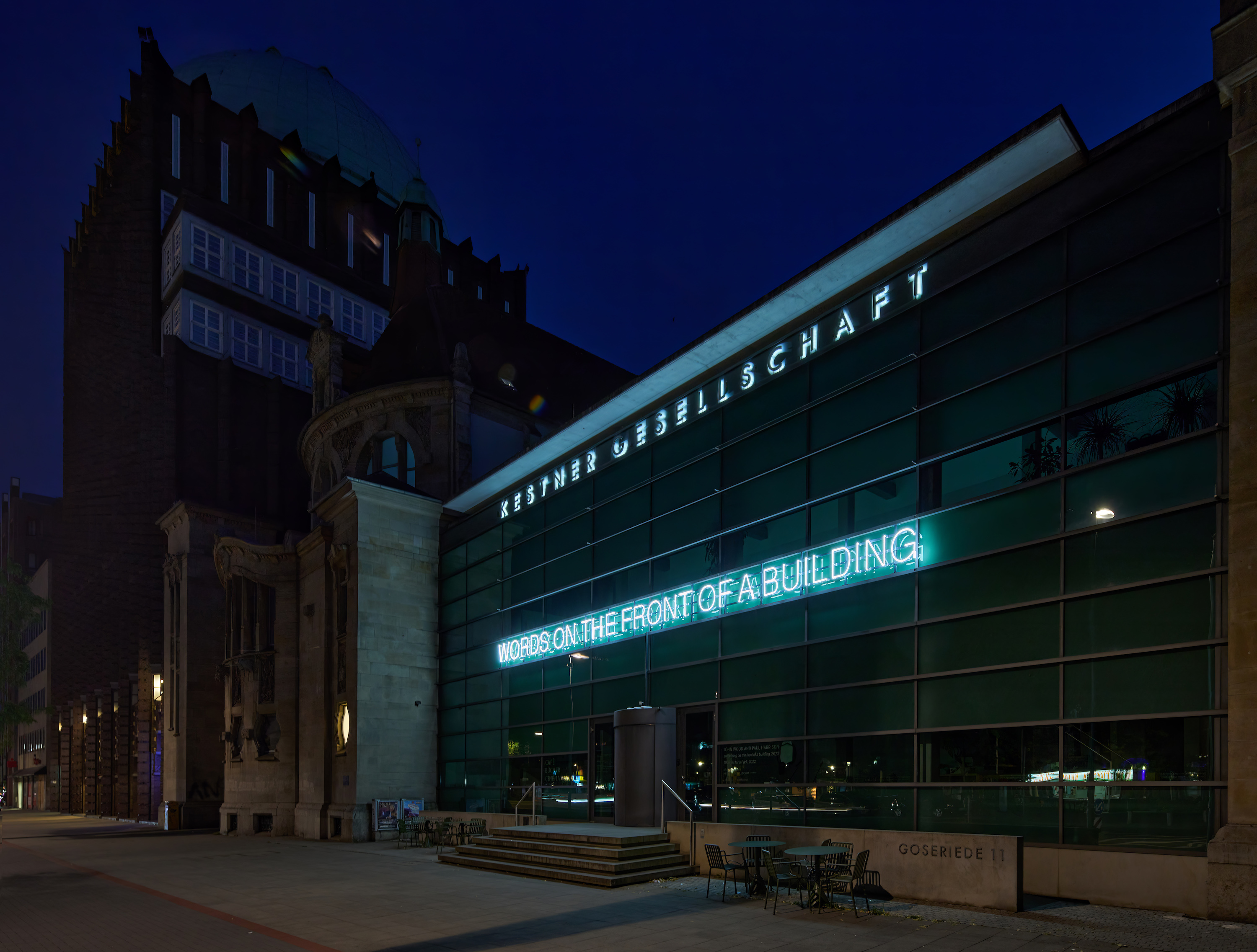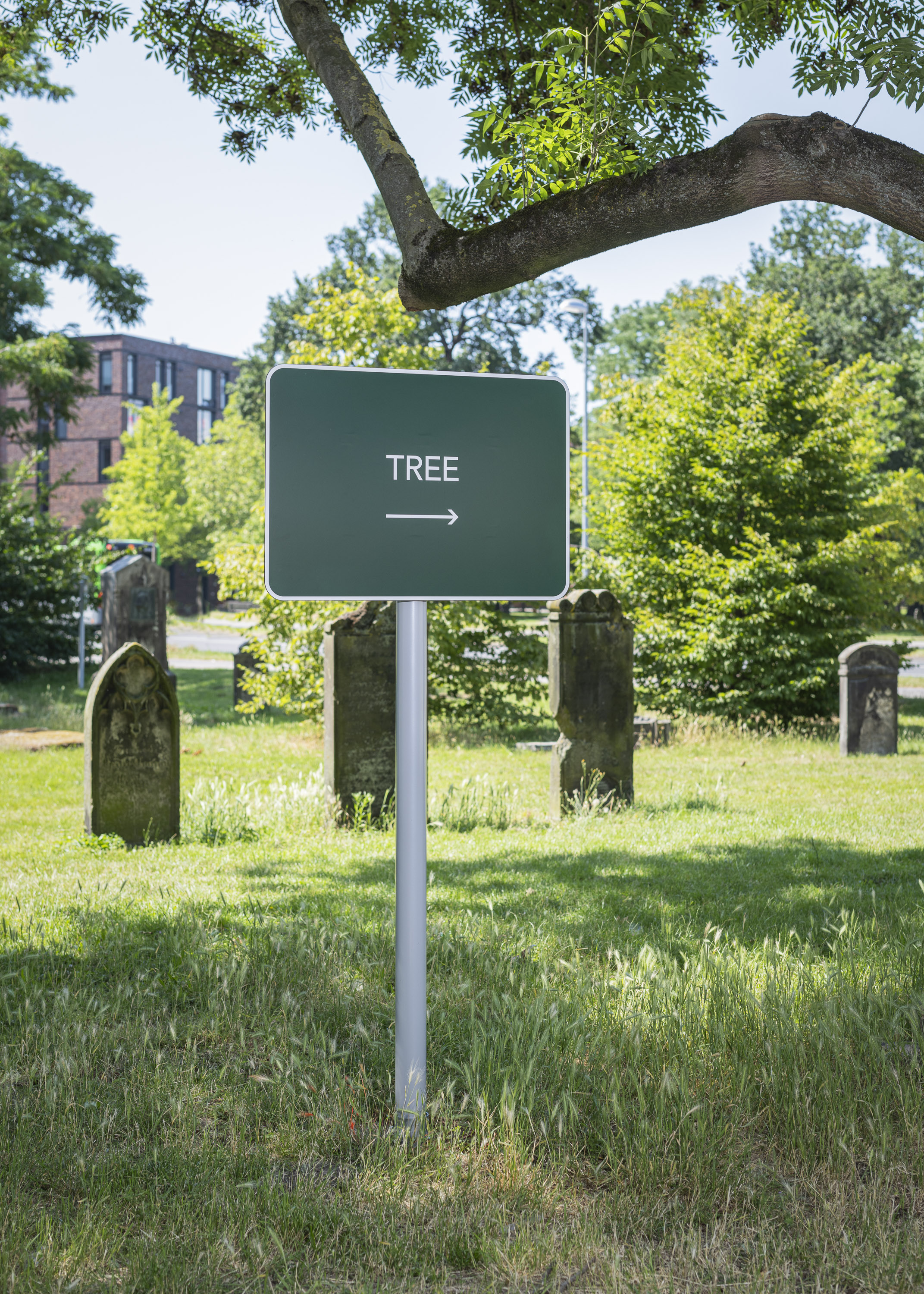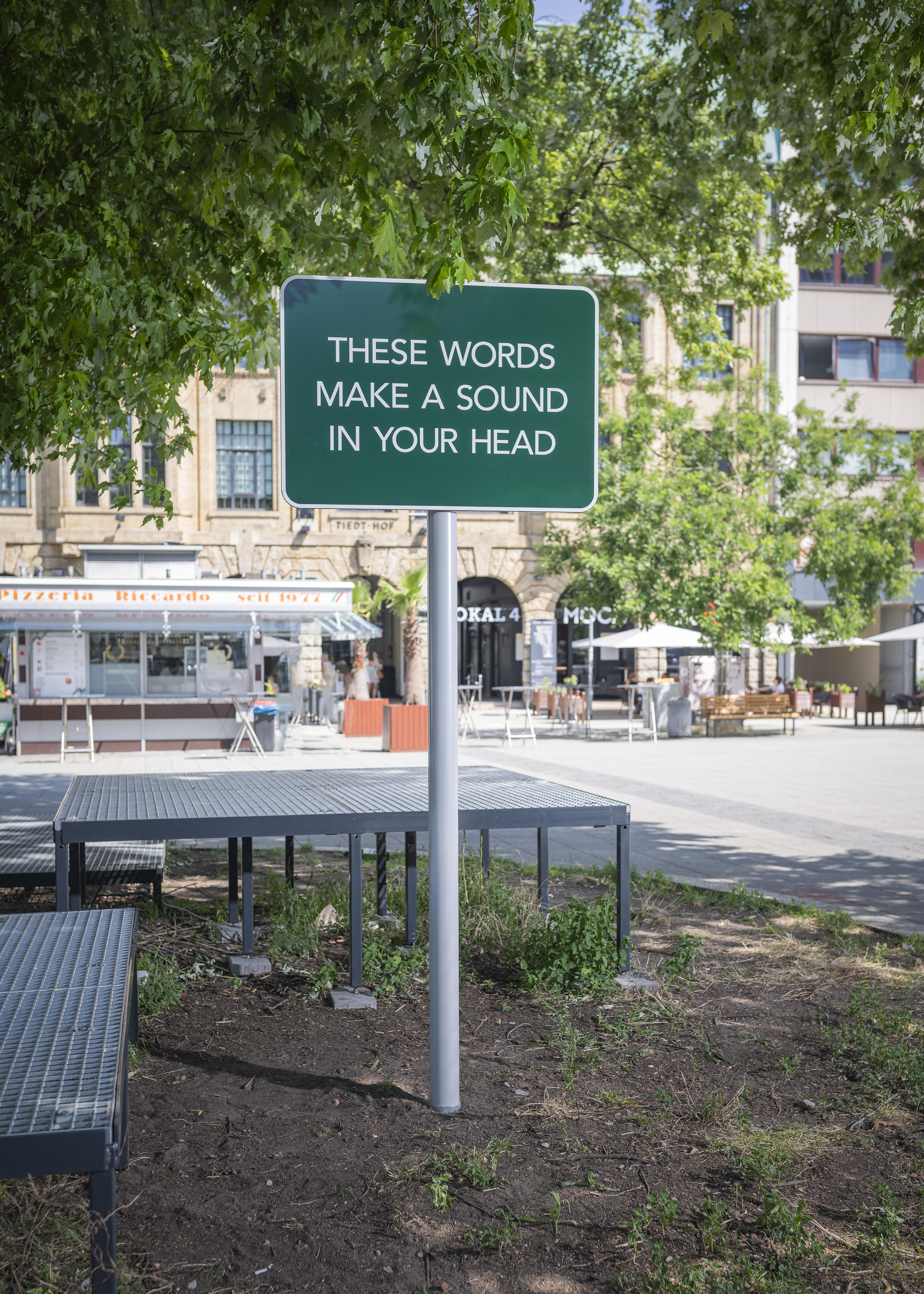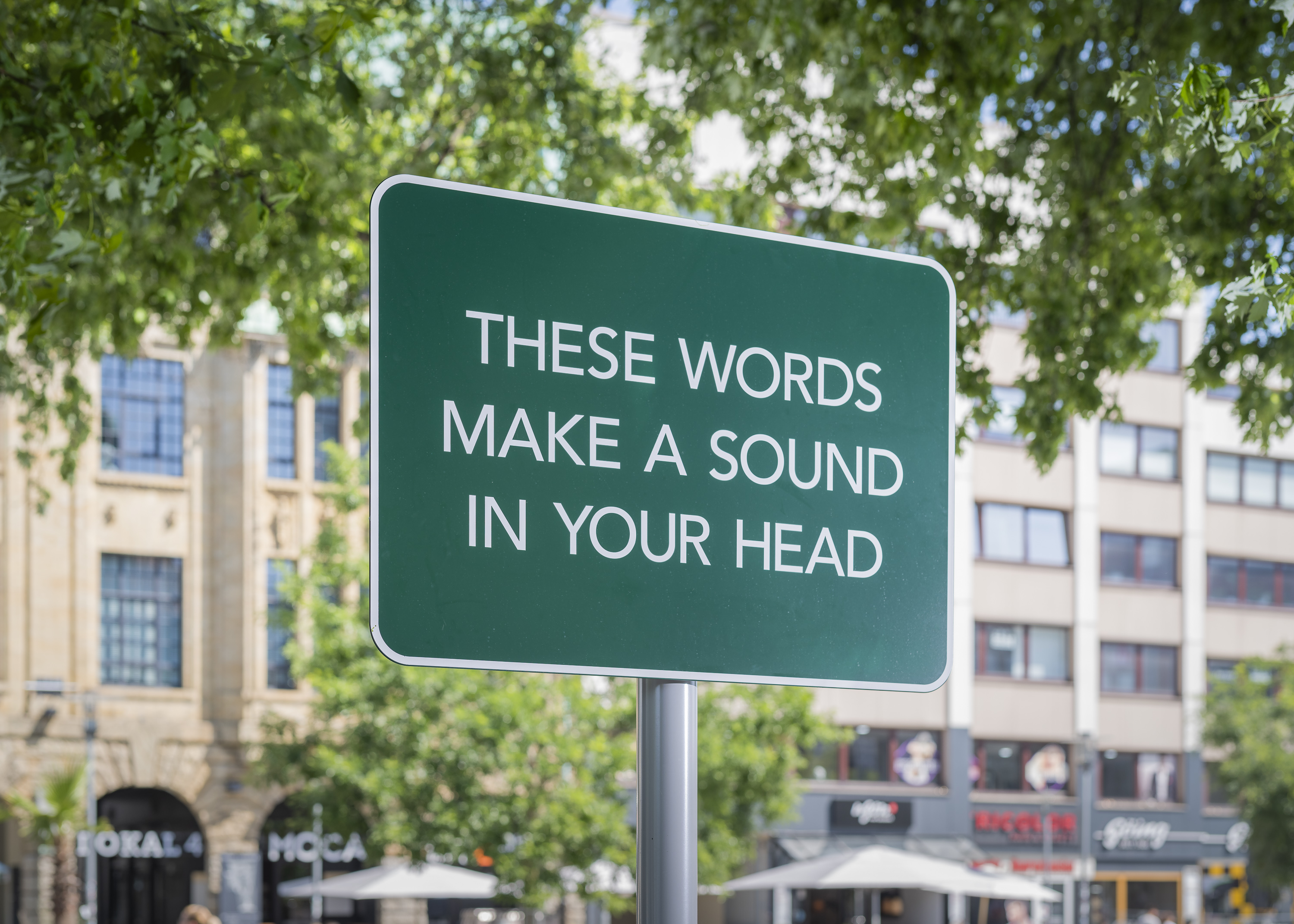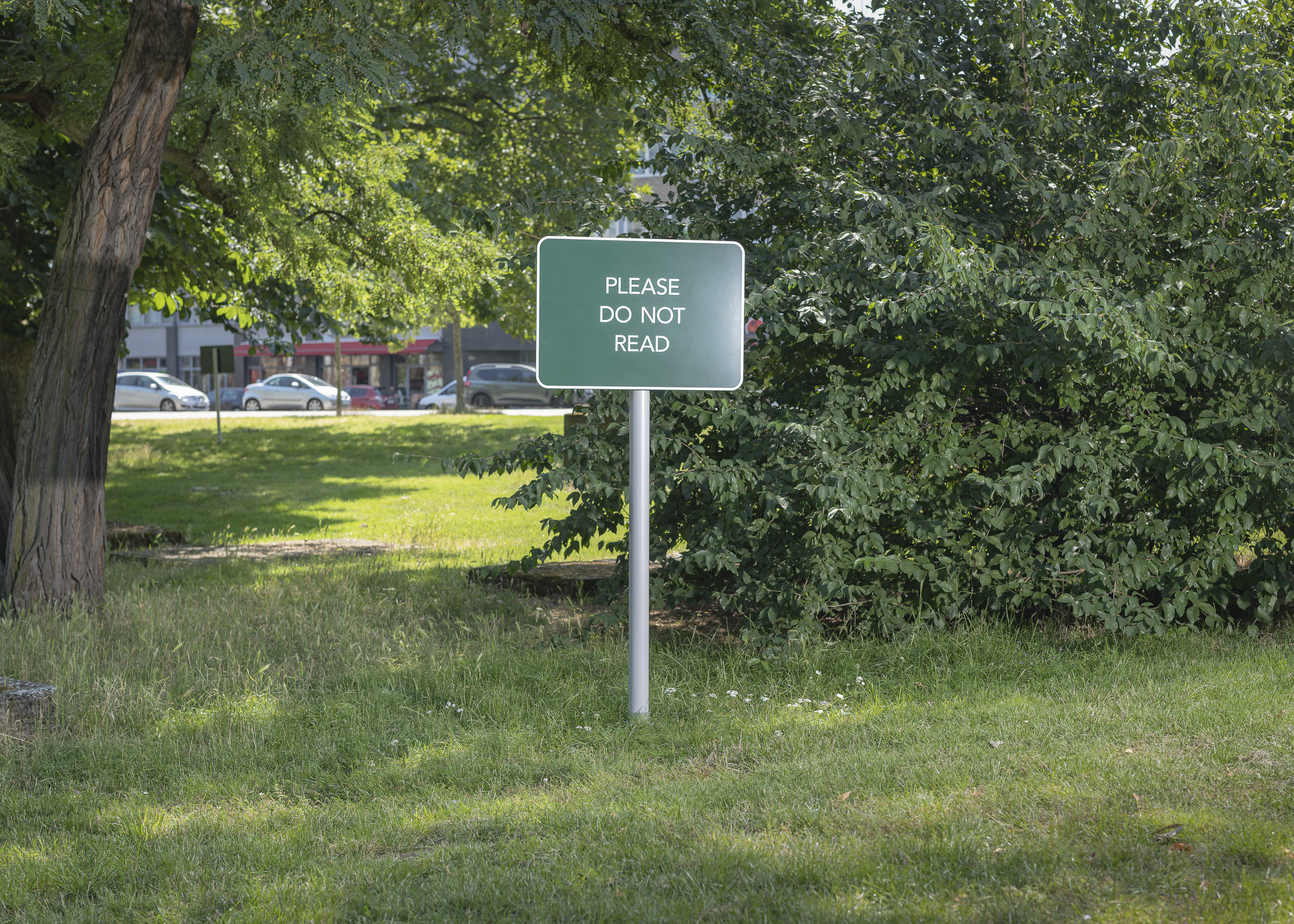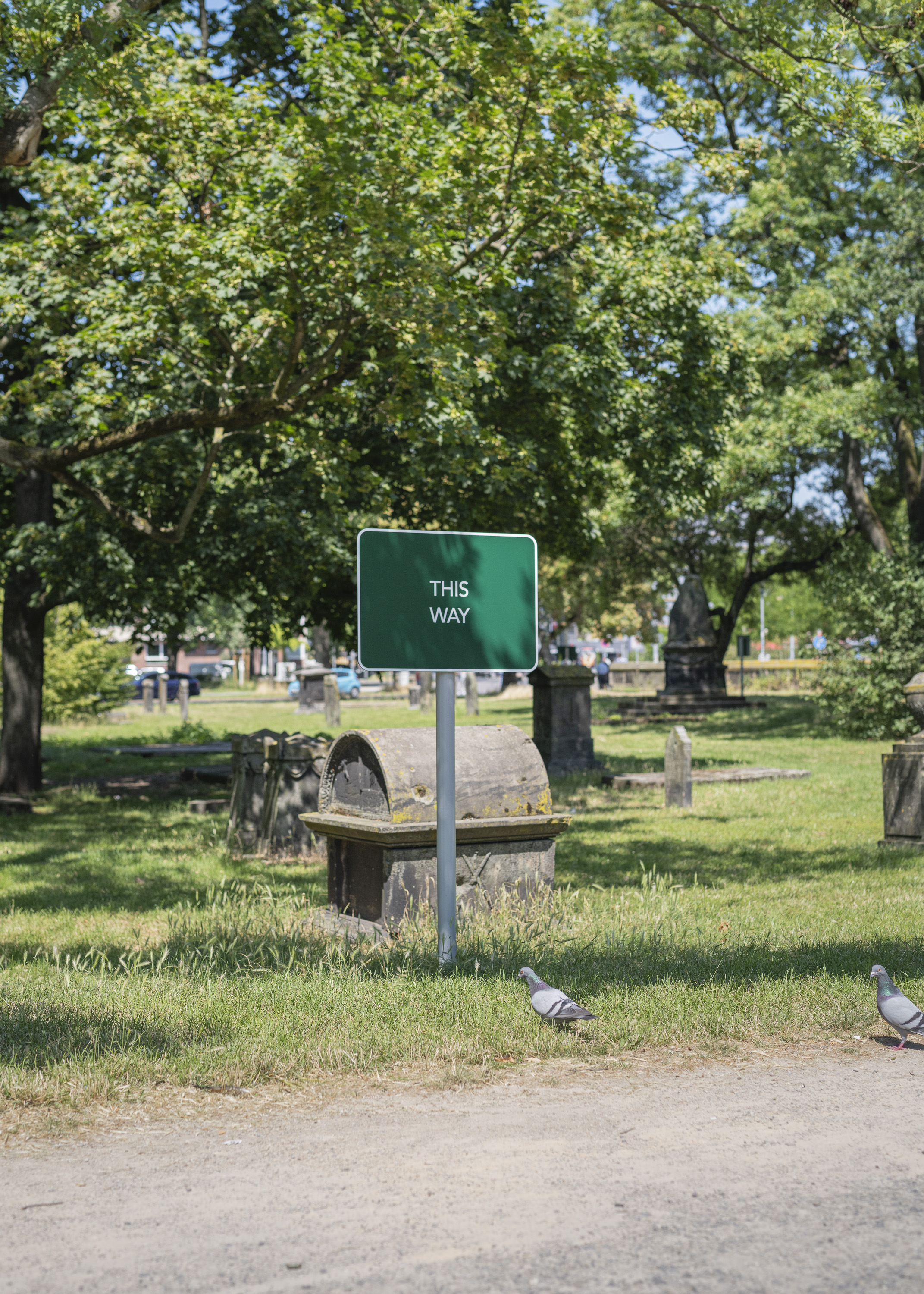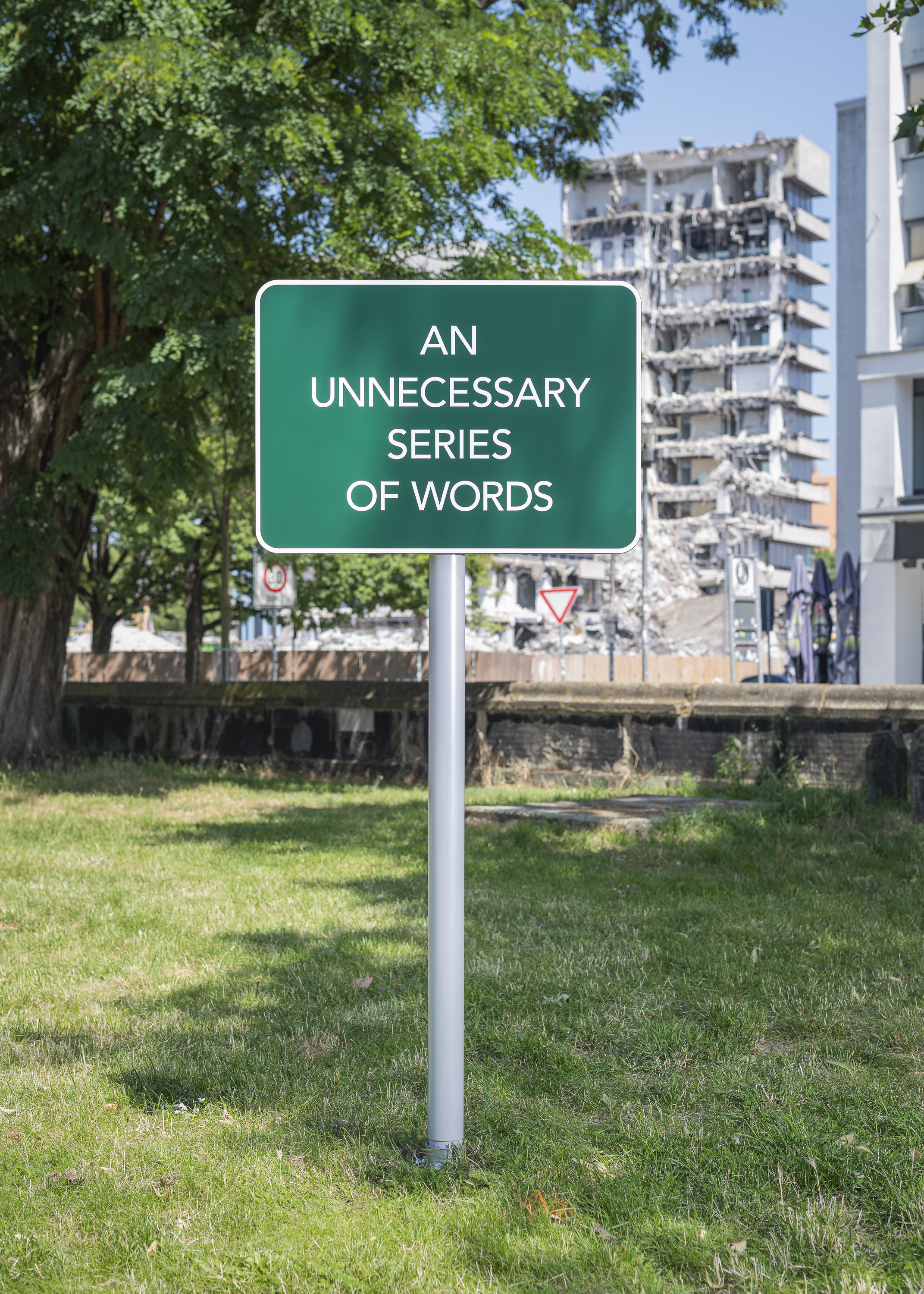 ---
Visit us
Goseriede 11, 30159 Hannover
---
Newsletter
Subscribe to our newsletter! We will inform you regularly about our exhibitions, events and digital offers.