Exhibition
Ericka Beckman | Fair Game
Sep. 12, 2021 - Jan. 9, 2022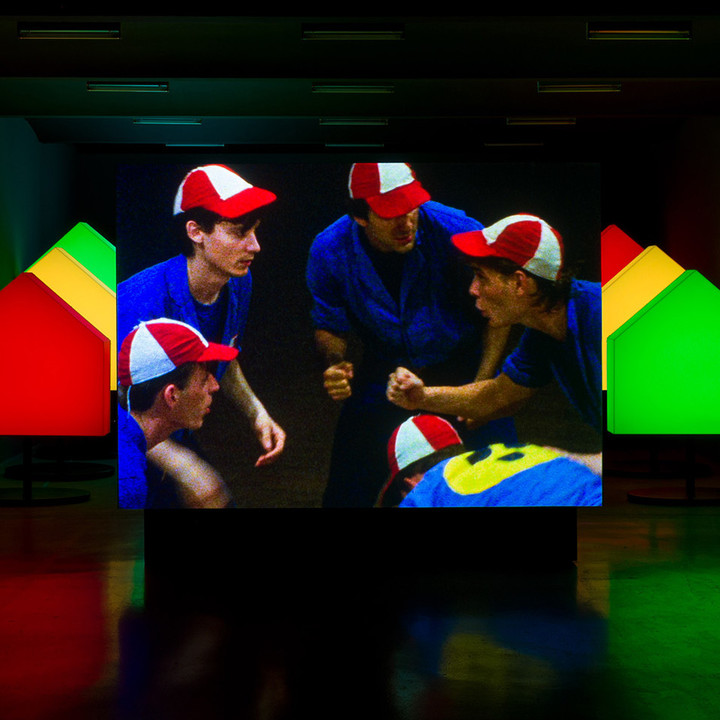 A world governed by structures and systems in which performance and optimization are constant concerns, and gamification is used as a means to increase participation: Long before social media and virtual interaction, the video pioneer Ericka Beckman (*1951 in New York) explored these themes in her films beginning in the early 1980s.
Game Mechanics: Games and Society
The exhibition presents two films by Ericka Beckman: her first 16mm film "You the Better" from 1983 and her latest film "We Are Labor" (2020), which will be shown for the first time in Germany. Both films negotiate the use of games as a means of structuring society. They raise the question: Can a dominant system ever be outwitted?
From CalArts to the Pictures Generation: A Video Pioneer in Hanover
With the exhibition, which was created in cooperation with the M Museum in Leuven, Belgium, the Kestner Gesellschaft is presenting Ericka Beckman's first institutional solo exhibition in Germany. This is intended to put a stronger focus on this video pioneer who attracted attention early on in the 1970s with immersive video spaces and her criticism of patriarchal structures. The artist was represented in the group exhibition "Where Art Might Happen: The Early Years of CalArts" at the Kestner Gesellschaft. Her experience at CalArts led her to collaborate on works with fellow artists such as Matt Mullican and Mike Kelley. It was only with the groundbreaking exhibition "The Pictures Generation, 1974–1984" at the Metropolitan Museum in New York (2009) that Beckman became known as one of the protagonists of the Pictures Generation.
Ericka Beckman lives and works in New York and Boston. She has had solo exhibitions at the MIT List Visual Arts Center in Cambridge, Massachusetts (2019) and the Secession in Vienna (2017). In 2018, Kunst Werke Berlin presented a four-day screening of her works.
---
Visit us
Goseriede 11, 30159 Hannover
COVID-19: Please remember to bring a mouth and nose protection. You can also purchase a disposable mask at the reception. Please keep the distance rule of 1.5 meters to other persons.
---
Patrons / Partners
We thank our patrons for the support of this exhibition.
---
Newsletter
Subscribe to our newsletter! We will inform you regularly about our exhibitions, events and digital offers.